Hello!
I had recently build flyback SMPS based on UC3845 chip. It operates correctly - no noise, stable output voltage, full power capable (24V/100W). I have Just one problem: Transformer core (not windings) is heating up (too hot to keep my hand on it) even at power of 50W.
operating freq: 80Khz
Details of transformer are calculated using Flyback 6000 software (which I found here) - I used EI33 core from ATX supply - rewound transformer and added gap (put 6 pieces of paper between halves of the core) to achieve 1700uH primary inductance with 81 turns.
Calculated data: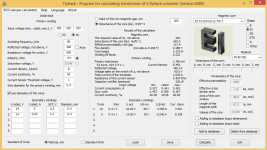 Schematic in attachement.
If any additional data needed - I will add.
Thanks for help!